The orofacial (oral and face) muscles have a major influence on our teeth, breathing, and speech. In fact the position of these muscles, when working or at rest, can influence whether we have straight, healthy teeth and/or large healthy sinuses.
In order for the orofacial muscles to function well, the ideal "oral rest posture" would have the following characteristics:
Closed lips creating a good seal
Facial symmetry
Breathing through the nose
Tongue resting at the roof of the mouth.
The oral posture described above will tend to develop larger jaws and accommodate adult teeth, helping to reduce crowding and may promote clearer speech. As well, larger jaws allow the sinus cavity to grow, leading to healthier breathing. The chances of relapse after orthodontic treatment is also reduced.
In contrast, when the lips are open, the tongue posture is low, and/or breathing occurs through the mouth, the child will most likely develop a long and narrow face, narrow jaws, which can lead to crowded teeth and/or eating difficulties. Narrow jaws can also influence the growth of smaller sinuses which can result in breathing issues. Speech may become a problem and orthodontic treatment relapse is more likely.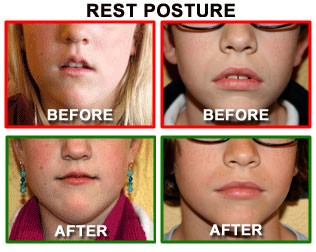 Your dentist or hygienist, who have received specialized training in Oral Rest Posture can help attain the correct oral rest posture. By using customized neuromuscular exercises, the lips, tongue and face muscles can be taught to rest in the proper place. This is known as "Myofunctional Therapy" and has the potential to improve the following:
Dental bite and healthier teeth
Reduction in orthodontic relapse
Tongue thrust
Jaw and Facial appearance
Swallowing and Eating
Breathing patterns (promotes nasal oppose to mouth breathing)
Speech concerns
If you have any further questions regarding myofunctional therapy, or how our "Myo Program" works, read the frequently asked questions below. Alternatively, you can contact Leanne Jamieson, RDH, our myofunctional therapist at leanne@alivelearning.ca to learn more.
If you have been referred by your dentist, hygienist, or orthodontist for myofunctional therapy, or you feel like you can benefit from myofunctional therapy, please complete the Myo Intake form to secure a consultation appointment with our myofunctional therapist.
MYO Frequently Asked Questions
The Myo Program is a program offered at Soni Dentistry for individuals to correct improper functioning of the muscles of the face and mouth. With better use of these "orofacial" muscles, there has been noted improvement in tooth alignment, jaw and facial structure, eating, speaking, breathing, and sleeping. Our myofunctional therapist will perform a thorough assessment for you or your child to assess whether you could benefit from "Myofunctional Therapy". Just as physical therapy helps to train our bodies back into optimal shape after an injury, myofunctional therapy helps by training the soft tissues of the face, neck and mouth to function at the height of their ability.

There are many factors that contribute to the success rate of myofunctional therapy. Identifying the root cause rather than just the symptoms, and the patients' and parents' motivational levels play a large part in the success rate. Studies have shown that this therapy can be 80-90% effective in correcting oral rest posture, swallowing and other oral functions when there is patient compliance. Furthermore, these corrections are retained years after completing therapy.

If you have answered yes to one or more of the questions below, myofunctional therapy may be for you. Our myofunctional therapist will perform a thorough assessment for you or your child to assess whether you could benefit from "Myofunctional Therapy".

Are your lips open at rest?
Is your tongue posture at rest low?
Do you breath through your mouth, or have breathing issues?
Do you feel you have narrow jaws/face?
Are your teeth crowded?
Do you have eating difficulties or feel you are a picky eater?
If you had orthodontics, did you have orthodontic treatment relapse?
Do you feel you have a speech impediment?

Every patients' needs are different, some requiring more and some requiring less time with our myofunctional therapist. The number of appointments is dependent on many factors including the severity of the issue being addressed and the patients'/parents' level of commitment. Practicing the tasks given by the myofunctional therapist regularly and increasing the frequency of appointments will ultimately reduce the number of sessions required. If you are practicing the task once a week and coming once a month then you will likely need more appointments than someone who is practicing every day and coming every week. At the initial appointment with our myofunctional therapist, a comprehensive assessment will be done. Once your assessment has been completed our therapist will be able to give you a more appropriate estimation of the number of follow-up sessions required.

The total cost of myofunctional therapy will depend on the number of sessions (see question 4). Our myofunctional therapist will be able to give you a cost estimate based on the number of sessions you may need. This would be completed after your initial myofunctional therapy assessment, at the consultation appointment. The one-hour consultation appointment, which includes the comprehensive assessment, is $100. The cost of follow up sessions range from $25 - $100, depending on the time needed to conduct myofunctional therapy.

Myofunctional therapy may be covered by your insurance company. We would be more than happy to do a predetermination for you following your consultation appointment. We encourage our patients to call their insurance company or check their benefits package online, for a faster response. If you are unsure what dental codes we charge out, please call the office at 519-453-5111 (1) and one of our receptionists can assist you.

Myofunctional Therapy is not its own profession. It is a treatment modality that some regulated health professionals, generally ones that are trained to work with the head, neck and mouth, can receive specialized training in. These regulated health professionals' licenses must hold orofacial myofunctional therapy within their scope of practice.

Our myofunctional therapist, Leanne Jamieson, is in good standing with the CDHO - College of Dental Hygienists of Ontario, which has orofacial myology written into its scope of practice. Other professions in Ontario that can take this additional training are: speech language pathologists, dentists, orthodontists and medical doctors.