Lip and Tongue Tie Release
A lip, tongue or cheek tie release otherwise known as a frenectomy is a simple oral surgical procedure that eliminates the presence of a frenum in the mouth. A frenum is a muscular attachment between two tissues found inside the cheeks and lips and inside the mouth and gums. There are three kinds of frenum in the mouth, the labial frenum, the lingual frenum, and the less common buccal frenums.
A labial frenum is a muscular tissue that connects the inside of the upper lip to the center of the gums between the two upper front teeth. The presence of this frenum can create a gap between the two upper front teeth and can also cause recession of the gums because of the constant pulling force it exerts on the gums. Furthermore, it can prevent nursing babies from latching thereby causing great difficulty in breastfeeding for both the baby and the mother.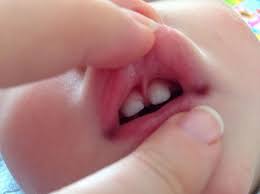 The second kind of frenum is called the lingual frenum. It is a muscular tissue that connects the bottom center of the tongue to the floor of the mouth. The lingual frenum that extends all the way to the tip of the tongue can sometimes restrict the patient from eating and speaking properly. Problems associated with lingual frenums can have a significant impact on a person's well-being and overall development. For the newborn child, it can prevent successful breastfeeding thereby affecting both mother and child.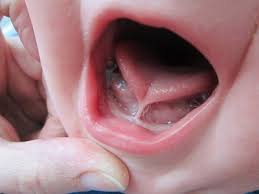 Our dentists are well versed in diagnosing as well as treating problems associated with frenums.
Benefits of Frenectomy
For those patients who need frenectomy procedures, the following results are attainable:
Labial Frenectomy:
Reduction in oral discomfort.
Improvement in facial appearance through the elimination of tooth gaps between the two upper front teeth.
Promotion of self-confidence.
Enhancement of bite function.
Stabilization of dentures among denture users.
Improvement in breastfeeding
Lingual Frenectomy:
Enhancement of communication and expression of oneself.
Improvement of appetite because the patient can eat properly.
Improvement in breastfeeding
Improvement in proper nasal breathing
Better facial development since the tongue should be sitting against the roof and helps shape the palate to allow more room for teeth and a larger airway
Fewer cavities since the tongue will be free to clear food off of the teeth
Babies and Frenectomy
What is a tongue tie on a baby?
A tongue-tie occurs when the string of tissue under your baby's tongue (frenulum), which attaches the tongue to the floor of the mouth, is too short. The medical term for tongue-tie is ankyloglossia. In the most severe cases, the tongue is completely fused to the floor of the mouth.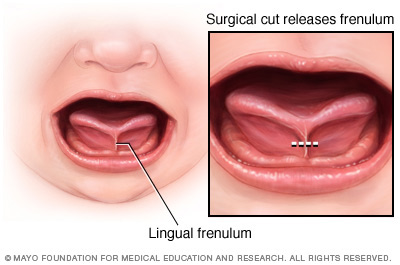 How does a tongue tie affect the child's development?
Although it is often overlooked, tongue tie can be an underlying cause of feeding problems that not only affects a child's weight gain but may lead to many mothers abandoning breastfeeding altogether. Tongue-tie is also often associated with speech disorders, difficulty with nasal breathing, and difficulties with eating.
Your baby may have a tongue tie if he/she...
Has trouble latching on.
Has a small gap, causing her to bite or grind when feeding.
Slips off your breast while feeding.
Makes clicking noises and/or dribbles during feeds.
Is unsettled during feeds.
Needs frequent or very long feeds.
Is sick (vomit) right after he/she feeds.
Thinking of a frenectomy? Have you seen a lactation consultant yet? How about a bodyworker? Not all breastfeeding concerns are caused by a tongue or lip tie!
If you have not seen a lactation consultant yet, it is imperative that you see one to ensure any other issues that may be making breastfeeding difficult are addressed first. For a list of lactation consultants, click here.
Some babies with feeding concerns may favor turning their heads to one side or display a lot of neck tension. If there is a lot of neck tension, this can mimic a tongue-tie since the tongue is attached to the neck bone. To rule out neck tensions we would recommend seeing a bodyworker, prior to any release procedure. For a list of bodyworkers, click here.
Contact Us
If you are concerned about your baby's ability to breastfeed and would like a consultation with our dentists, please complete the INFANT FEEDING INTAKE FORM. (PLEASE COMPLETE THIS FORM USING A COMPUTER WITH AN UPDATED BROWSER. (Note: You may have to allow (turn-on) pop-ups in order to book an appointment).
AS A LONDONER, DR. LIU IS DEDICATED TO SERVING HER LONDON COMMUNITY. IF YOU ARE A LONDONER AND UNABLE TO BOOK YOUR APPOINTMENT IN A TIMELY MANNER THROUGH THE INFANT FEEDING INTAKE FORM, PLEASE CONTACT THE RECEPTIONIST DIRECTLY AT 519-657-5111.
Testimonials
Check out our Google Reviews!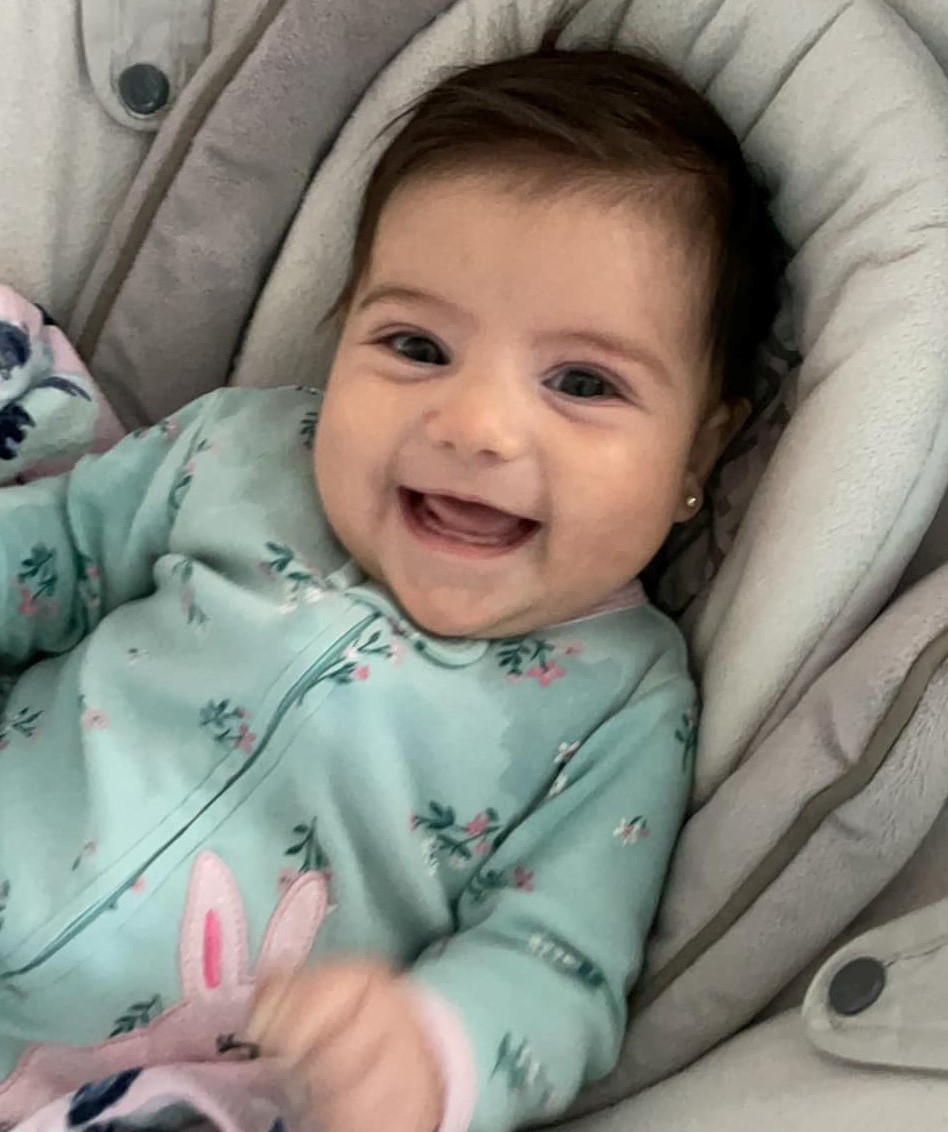 The office was very clean, the staff were very friendly and professional. Dr Liu was able to get us in quickly to have my babies lip and tongue tie released and she did an incredible job with the procedure and health teaching/aftercare. Would highly recommend this clinic and Dr Liu!
S.V - January, 2023
Dr. Liu and staff are amazing! We brought our 3-month-old in for a tongue and lip release. Dr. Liu was so gentle with her and patient - when my daughter didn't open her mouth Dr. Liu did not force her to, she waited and tried again after she settled down.
We noticed a change in our daughter's nursing, latching, spit-up, and gas immediately after the tongue and lip release. She is a completely different baby now! You wouldn't even have known she had a procedure done if we didn't tell you, she wasn't uncomfortable or in pain afterward and left the office with a huge smile on her face!
Will definitely be recommending Dr. Liu to anyone who needs her, and looking forward to sharing our experience with anyone else struggling with their children too!"
A.I - November 11, 2021
"The Soni Dentistry team was recommended to me by my midwife after they noticed a tongue tie when he was born. He is my third child and the third one with oral ties. The care provided by Dr.Liu, Leanne and the whole team is unmatched. I would highly recommend them. Additionally, if your hesitant to attend the clinic due to Covid, I can assure you it is a very safe environment."
M.M. - February 28th, 2021
"My daughter had a lip & tongue tie that she had released at 5 weeks old. Dr. Lieu and Leanne were both amazing! They both made me feel reassured that I was comfortable and making the right decision. They also made us very comfortable bringing our daughter out during a pandemic. The office was clean and the staff is amazing. Definitely would recommend seeing them."
S. S - February 21, 2021
"Dr. Liu did my daughter's lip and tongue tie release. As a terrified new mom, she was extremely kind, understanding and thorough. She explained the process clearly and practiced the mouth exercises with me ahead of time. The procedure was very quick and she brought my daughter back to me immediately after and ensured she was able to nurse before I left. The office has a dedicated nursing room for this purpose.
The follow-up appointment was within a week to make sure everything was going well.
I couldn't imagine a better experience for such a difficult situation."
S.S - August 2020
"Yes, everything seems to be improving already and we really appreciate the thorough and thoughtful care we received."
B.A. -September 23rd, 2019
"Very much so! I have seen improvements for both baby and myself that make breastfeeding much easier and less stressful."
E. S. - August 9th, 2019
"Yes. The staff were very supportive and patient during the initial procedure. We felt confident taking the baby home and doing aftercare."
C.P. - June 11, 2019
"Improvement in nursing! Went from syringe nursing to fully breastfeeding. Nursing still a little sore but much improved."
N.M. - May 7, 2019
"I am happy with our baby's progress, I find that it has improved her feeding, and overall she's a much happier baby."
K.D. - April 17th, 2019
"Yes, I am happy with the treatment, service was great, very thorough with the explanation of the procedure."
S.B. - April 10th, 2019
"Yes, Appreciated the clear expectations, follow-up phone call and appointments. And support during the initial appointment of a sleep-deprived hormonal mom!! Thank you!"
S.R - April 2nd, 2019
"Very much, huge improvements! So thankful!"
J.K. - December 19th, 2018
"Yes. The staff were warm and caring. The breastfeeding room was private and made me feel comfortable. All the little touches made a scary experience much less scary. Thank you!"
C.D. - October 8th, 2018
"Thus far we are very happy. The tongue lifts are a bit of a struggle, but we're still glad to put this behind us. The support and follow-up have been amazing."
J.D. - September 11th, 2018
"Absolutely! 100%. It's a change from night to day, I'm beyond relieved/happy with the procedure. Thank you."
M.B. - July 11th, 2018