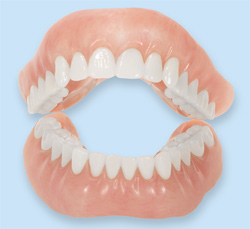 Complete and Partial Dentures
A denture is a removable replacement for missing teeth and adjacent tissues. A complete set of false teeth replace all the teeth, while a partial denture fills in the spaces created by missing teeth and prevents other teeth from changing position.
Your new dentures will do more than just relieve mouth pain and enhance your ability to eat. You will look and feel younger and it will give you the confidence that you have been wanting by improving your speech and overall appearance.
Only a dentist knows your teeth best and can comprehensively treat your teeth. Occasionally, teeth will need to be prepared and reshaped to make a properly fitting denture. The preparation of teeth is a service only a dentist can provide.
Implant-Supported Dentures
There is an ever-growing demand for implant-supported dentures. If you have troubles with your dentures slipping or falling out then implant-supported dentures may be the answer. Implants provide stability to the denture so they do not move as easily thereby allowing you to enjoy different foods more. As well, it reduces the soreness that denture movement tends to cause.