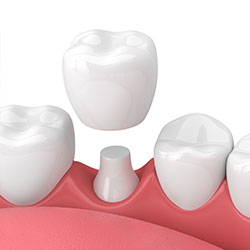 Crowns can be use to strengthen, restore, or improve the appearance of your natural teeth. Often, a crown will be needed when there is no longer sufficient tooth structure left to place a filling.
Traditionally crowns require two appointments. The first appointment involves preparing the tooth and taking an impression of the prepared tooth. The impression is sent off to a dental laboratory in order for the permanent crown to be made. In the meantime, a temporary crown will be fitted on your prepared tooth to protect it until the permanent crown comes back from the lab approximately two weeks later. The second appointment involves removing the temporary crown, and placing the permanent crown.
At our office, we have invested in a solution that condenses the two-week procedure into one visit, thereby saving you time and inconvenience. Using computer-aided design technology (CEREC®), we are able to design your permanent crown right before your eyes. When the design is complete, you will have the pleasure of watching your permanent crown being milled. Once milled, the permanent crown is placed on your prepared tooth... all in the convenience of one appointment.
Say good-bye to temporary crowns falling off prematurely, spend more time with your family, miss less time from work, and save money!
For more information on CEREC technology, please talk to our staff at Soni Dentistry.
Click here to view our Crownd and Bridges Smile Gallery!
Bridges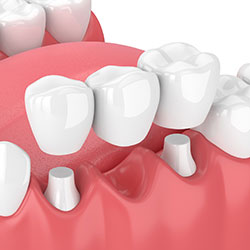 A bridge can be used to replace one or more missing tooth. The teeth on either side of the missing tooth are prepared as crowns to hold the bridge in place. Bridges can not only help you restore your smile, but also prevent the tilting and shifting of the teeth adjacent to the missing tooth. The bridge procedure is similar to the traditional crown procedure.
In just two appointments, you can enhance your appearance and improve your overall dental health. CEREC® technology also allows some bridges to be completed in one visit.